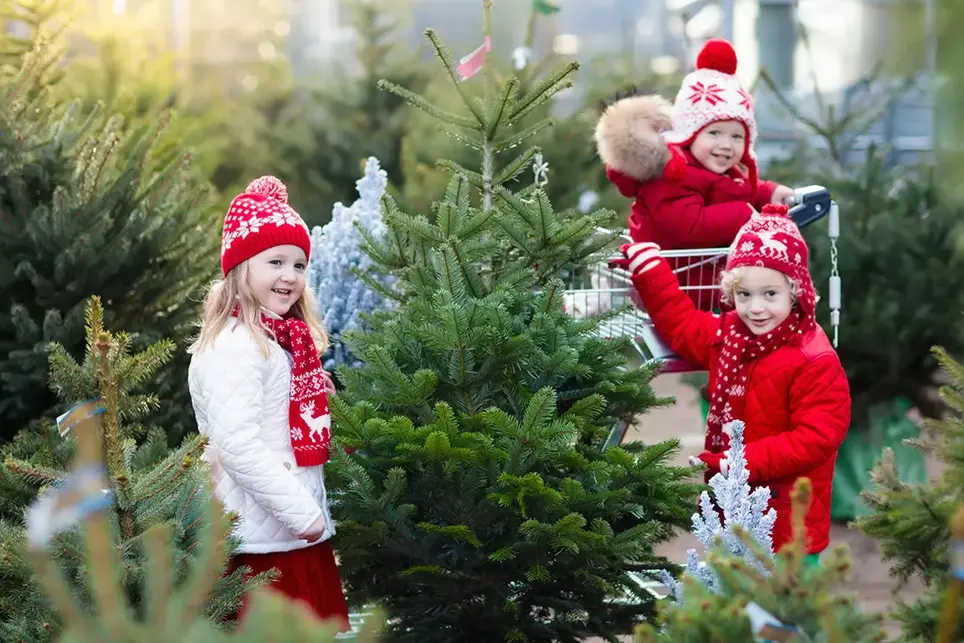 There's nothing quite like having a Real Cut Christmas Tree in the home during the festive season. The scent of fresh pine hangs in the air with the onset of the holiday season, perfect for creating warm childhood Christmas memories. The site and aroma of Real Christmas Trees lift the spirit bringing an instant cheer from the end of November as we enter the brisk winter days.
Real Christmas tree lovers are anxious to grab their ideal tree as soon as they're available and are looking for the best quality trees to light up the home and remain fresh throughout the season.

If you're living in London and unwilling to compromise on your Christmas tree quality, you'll want to go to Real Christmas Tree specialists, and there are only a few places in the big city that can lay claim to offering first-class high-quality trees.
Boma Garden Centre in Kentish Town London is one of the few places that pride themselves in supplying premium quality trees and the Cinco stands, lights and handmade decorations to accompany them. What's more, Boma also allows you to Preorder your Christmas Tree online now with local delivery or collection from 25th November until 23rd December.
Find out about Real Christmas Tree Local Delivery
What is the best real Christmas tree to buy?

After years of experience receiving customer feedback from London's most discerning Real Christmas tree lovers, Boma stocks, first and foremost, Real Cut Nordmann Fir Trees.
Nordmann Fir – London's favourite Christmas tree


The Nordmann Fir is London's favourite Christmas tree, renowned not only for its delicate fragrance but also for its non-drop needle characteristics. Nordmann's glossy green foliage colour is divine, having a fantastic even shape. Its full array of robust branches gives the tree a wholesome, rich appeal with ample space to hang weighty decorations.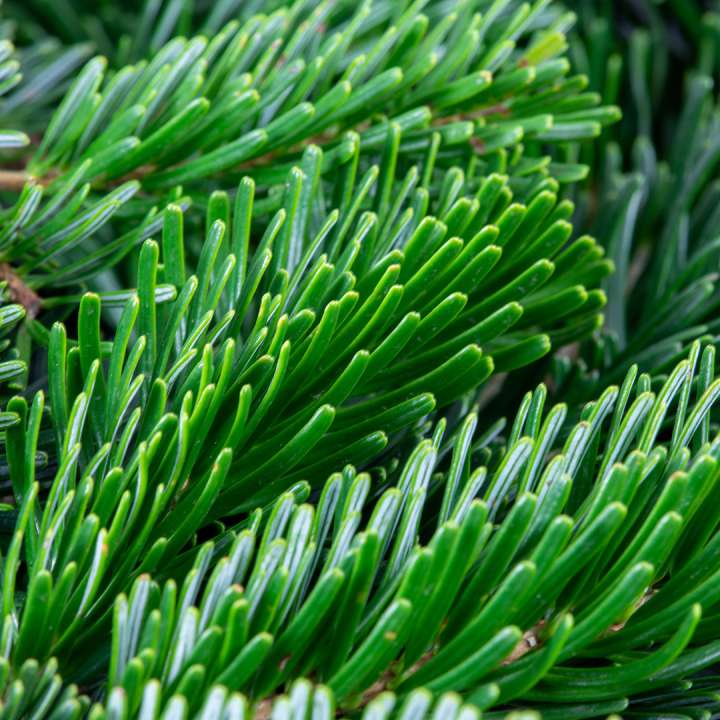 There's nothing more disappointing than a pine tree without its needles– that's why Londoners admire Nordmann Firs, as the branches have superb needle retention maintaining the classic Christmas tree appeal. Furthermore, Nordmann Fir's soft needles make them ideal for children to create natural Christmas decorations, and Toby will be delighted, too, as they are safe for family pets. The cut Nordmann fir Christmas trees have strong branches that are practical for holding heavy glass Christmas Tree Decorations.
Boma's Real Cut Nordmann Firs range in size to suit different rooms. Sizes start from 3ft (90cm), the range also includes heights: 4ft (120cm), 5ft (150cm), 6ft (180cm), 7ft (210cm), 8ft (240cm), 9ft (270cm) , and 10ft (300cm). The premium-grade trees are freshly cut just in time for local home delivery or collection.
Cut Fraser Fir Christmas Trees

Equally delightful and trending in popularity are real Cut Fraser Fir Christmas Trees. This tremendous Christmas tree variety has a narrow, compact shape with evenly placed branches, making the Fraser an ideal choice for smaller living quarters and a great space saver. With their vigorous growth habit, our nurseries lightly prune Fraser Fir Christmas trees each year to maintain their perfect symmetrical shape.
London real Christmas tree lovers admire The Fraser fir Christmas tree for its intoxicating delicate citrus-like pine scent and non-drop attractive blue-green needles with silver undersides. Fraser's soft, hardy needles last a long time throughout the season.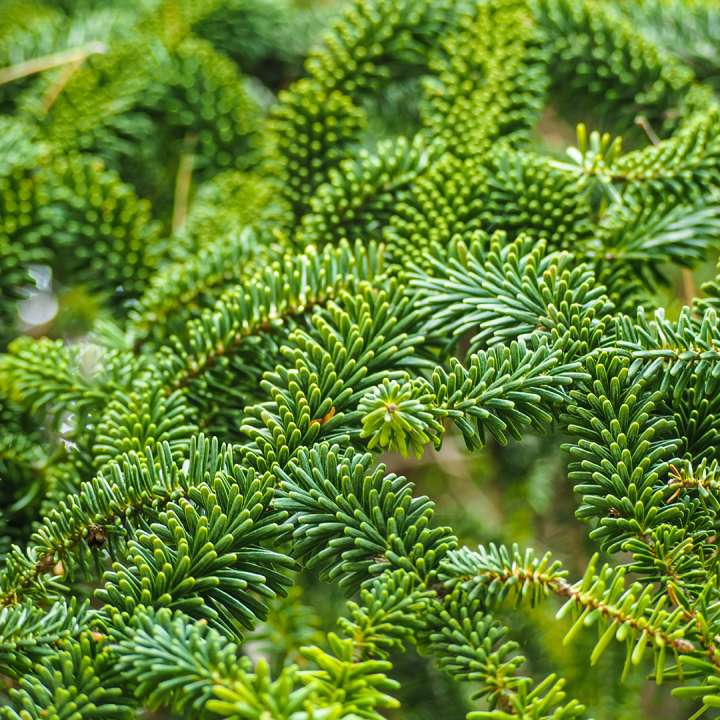 What sets the Fraser Fir Christmas Tree apart is its dense, evenly placed branches– the ideal backdrop for Christmas tree decorations.
Cut Fraser Fir Christmas trees are available at Boma Garden Centre in Kentish town with sizes starting at 4ft (120cm) and range in sizes, 5ft (150cm), 6ft (180cm) , 7ft (210cm) , 8ft (240cm)

Pot Grown Christmas Trees - The perfect generational choice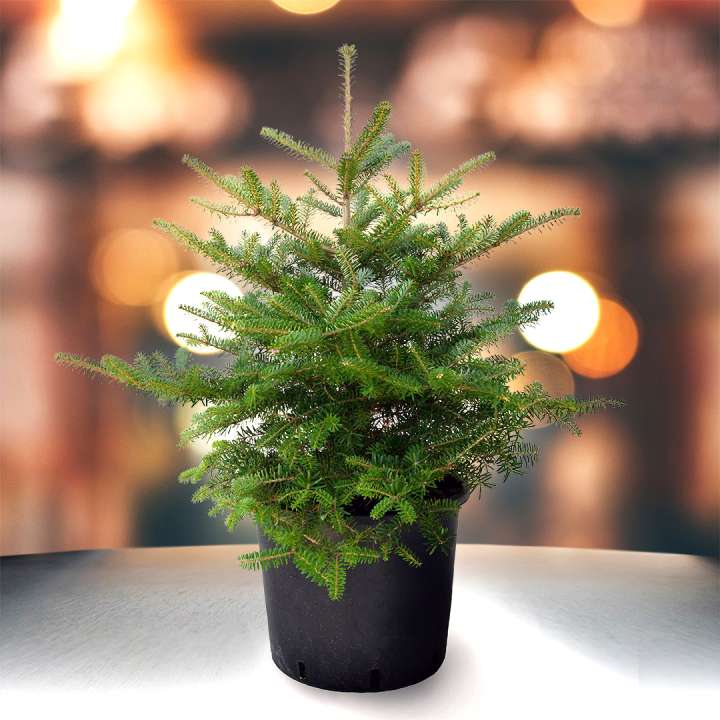 For gardeners that love the idea of Christmas all year round, Pot Grown Nordmann Fir Christmas Trees are perfect. Be reminded of Christmas all year with a Pot Grown Pine Tree in your garden. At the start of the Christmas season, bring that outdoor freshness into the warmth of your Christmas home for the season. Once the holiday season is over, you can transfer it back to the garden.
Pot Grown Christmas Trees have the added benefit of providing a living tree in your Christmas home. What's lovely about Pot Grown Christmas trees is that you can enjoy them for generations to come, passed down from parents to children for years of festive memories.
Boma stocks Nordmann Pot Grown Christmas trees starting from 50-60cm (1.6-1.97ft) and ranging in sizes 60-80cm (1.97-2.62ft), 80-100cm (2.62-3.28ft), 100-125cm (3.28-4.10ft), 125-150cm (4.10-4.92ft) and the largest being 150-175cm (4.92- 5.74ft).
The added advantage of Pot-Grown Christmas Trees is that they are also available for nationwide delivery throughout the UK in the starting size ranges: 50-60cm (1.6-1.97ft), 60-80cm (1.97-2.62ft), and 80-100cm (2.62-3.28ft).
Cinco Christmas Tree stands - Voted first by all cut Christmas trees

To maintain the tree's freshness throughout the season, choosing a high-quality Christmas tree stand is essential. Boma strongly recommends Cinco Christmas tree stands available in different sizes suited to the tree's height. What's brilliant about Cinco Stands is their ability to store water. The cut trunk of your Christmas tree will drink all the water it needs to stay fresh throughout the season. All you need to do is keep the water topped in the stand. Cinco Christmas Tree Stands have special screw fasteners to secure the tree and are made from high-grade polyurethane plastic that is reusable for years to come.
Cinco stands are available in a range of sizes to suit your chosen Christmas Tree:
Cinco 5 Classic Christmas Tree Table Top Stand for trees up to 5Ft (150cm)
Cinco 6 Classic Christmas Tree Table Top Stand for trees up to 6Ft (180cm)
Cinco 7 Classic Christmas Tree Floor Stand for trees up to 7Ft (210cm)
Cinco 10 Classic Christmas Tree Floor Stand for trees up to 10Ft (300cm)
Cinco 12 Classic Christmas Tree Floor Stand for trees up to 12Ft (360cm)
Wooden Block Stands for Christmas Trees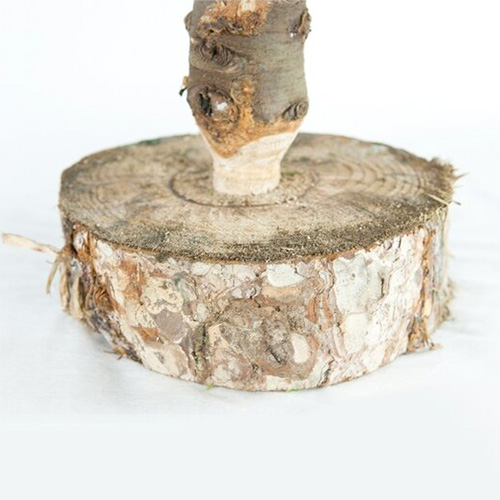 If you prefer a more natural organic look for your Christmas Tree stands, Boma also stocks Christmas Tree Wooden Block Stands. They won't provide the same water retaining benefits of a Cinco, but they will give ample support for the tree. Boma only supplies wood block stands for trees up to 6Ft in height. For Christmas trees taller than 6Ft, Cinco Christmas Tree Stans are preferable to maintain stability.
Handmade Christmas Tree Decorations

Now that you have the perfect Christmas Tree and stand for your London or UK home, you'll need the icing on the cake and a cherry on top, and we're not talking about Christmas cakes.

High-quality Christmas trees deserve the best quality and most creative Christmas Tree decorations. Boma has thought of it all. For years, London Real Christmas Tree Lovers have demanded unique decorations for their Christmas Trees that will set their home apart.
The key is authenticity. Handmade Christmas decorations compliment premium quality Christmas trees. The ornaments come in various animal and bird designs, with brilliantly coloured Christmas Tree baubles in a massive range of striking colours. Nothing will set off a real Christmas tree than the glorious electric colours of Christmas lights and a heavenly star or angel crowning the tree.
Santa loves London homes
It is a well-known fact that Santa has a particular affinity towards London dwellings– that's why children insist on Boma Garden Centre's Real Christmas Trees for a magical Christmas home experience. You can Preorder Online from 1st November or pop into the garden centre from 28th November to choose your tree in person.
With local home deliveries on real-cut Christmas Trees and nationwide shipping for the smaller sizes of Pot Grown Christmas trees, Boma Garden Centre is renowned throughout London as the number one place to make your ideal Christmas come true.
Visit the Boma Christmas Tree department to Find Out More.