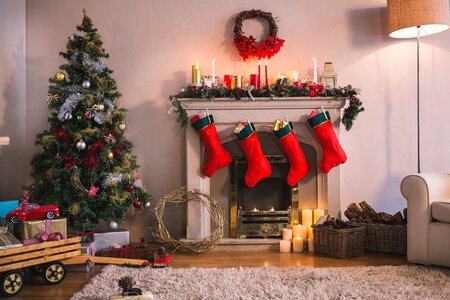 Christmas is the perfect time of the year to add colour and cheer. What's more, it's a chance to use your creativity in a very personal way, decorating your home and making it shine.
Firstly, it's exhilarating and such an uplift to the winter season and chilling days. It's a lot of fun finding the perfect spot for festive lights, hanging decorations, and where to put the Christmas tree.
It's easy to go out and buy cheap decorations stamped out in some faraway factory. But for an authentic look that captures the true holiday spirit, a little personal investment in handmade tree decorations and ornaments can make all the difference.
Beyond the stunning seasonal colours, there's the incredible scent of rich camphor or menthol pine fragrances from real Christmas trees. The aroma mixed with Christmas baking is invigorating.
It's the season of giving. The choice plants that are always a winner are Christmas Amaryllis, Poinsettia and Christmas Rose, not to forget Holly and Christmas cactus.
Hanging a mistletoe near the entrance is always a good excuse for a wet one or a peck on the cheek if you're not so inclined.
Pine branches go a long way to spicing up a mantlepiece and shelves.
The centrepiece of any front door has got to be a wreath. There are so many styles from which to choose.
If you're looking for some creative ideas, there's nothing better than talking to the experts. The Boma team have been decorating for Christmas since the Good Shepherd's inception; well, maybe that's a slight exaggeration.
Christmas at the Boma is an exciting thrill, and the team have some novel ideas with holiday stock in hand.
It's easy to buy online, but there's nothing like the experience of visiting the garden centre in season. It's a real treat for the kids, and the dog is welcome too.